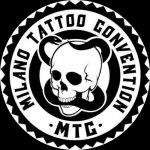 A Look Back at Past Milano Tattoo Conventions
The Milano Tattoo Convention is one of the most prestigious tattoo conventions in the world, but as the COVID-19 pandemic continues, it has unfortunately been forced to keep its doors closed for another year.
While February would usually see us jet off to Italy's famous city of Milan, the lockdown situation means that we wanted to have a little reminisce of the great times had by all at past conventions.
Join us as we take a look back at past Milano Tattoo Conventions and recap our highlights!
Milano Tattoo Convention 2020 (25th Anniversary Edition)
Last year saw the Milano Tattoo Convention celebrate its 25th anniversary, and what a way to mark the milestone!
The 2020 Milano Tattoo Convention saw four of our sponsored artists take home awards for their incredible work.
Debora Cherrys took home '3rd Best of Friday' for a killer neo-traditional tattoo, while Kindamo from Alex De Pase's Or Noir Tattoo Gallery received '2nd Best of Friday' for a dope black and grey leg piece.
Kindamo also claimed the award for 'Best Large Black & Grey' for another incredibly clean tattoo, with Christos Galiropoulos then picking up 'Best Small Black & Grey' with a healed portrait of The Rolling Stones' guitarist, Keith Richards.
The finale of the 2020 Milano Tattoo Convention then saw Jay Freestyle crowned '3rd Best of Show' for an amazing BDSM-themed leg sleeve that combined colour realism with pixel art.
Milano Tattoo Convention 2019
The 2019 Milano Tattoo Convention saw our Sandra Daukshta pick up two awards for a stunning sleeve she started and completed at the show. The first half of the piece, a peony, won '3rd Best of Friday', while the addition of two portraits earned the full work 'Best of Saturday'.
Artists Kindamo and Mr Nobody from Or Noir Tattoo Gallery picked up 'Best Realistic' for their black and grey collaboration, while Rich Harris won '2nd Best Colour' for a stunning leg piece.
Milano Tattoo Convention 2018
History repeated itself at the 2018 Milano Tattoo Convention as our sponsored artists Ryan 'The Scientist' Smith and Jay Freestyle won 'Best of Show' for the second consecutive year with an awesome leg sleeve.
Debora Cherrys also picked up 'Best of Friday' for the second year running and '2nd Best of Saturday' for two eye-catching neo-traditional tattoos, while Sandra Daukshta's owl portrait again claimed '2nd Best of Friday' and Fernando Bisceglia's work was named 'Best Colour'.
Milano Tattoo Convention 2017
The cherry on top of the 2017 Milano Tattoo Convention cake was Ryan Smith and Jay Freestyle taking home the 'Best of Show' prize for a jaw-dropping collaborative leg sleeve.
Prizes also went to Debora Cherrys for 'Best of Friday' and Sandra Daukshta for '2nd Best of Saturday'.
We hope you've enjoyed this recap of past Milano Tattoo Conventions and we hope to see you all in Italy's famous city as soon as possible!