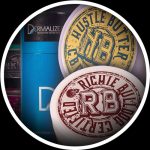 Best Tattoo Aftercare
Dezember 9, 2019

Dezember 9, 2019

ch_de

https://www.killerinktattoo.ch/skin/frontend/killer/default/images/logo.svg

https://www.killerinktattoo.ch/
Once the last drop of tattoo ink has gone into the skin, it's time for one of the most important parts of the tattooing process: the aftercare. There are so many different versions of tattoo aftercare out there, from butters to creams, lotions to wraps, and many more, so what is the best tattoo aftercare product?
We're going to run through the best tattoo aftercare products that are available to order from Killer Ink Tattoo and help you pick one, or more, that is right for you!
Up first is a tattoo care product that you all know and love: Hustle Butter Deluxe.
Hustle Butter Deluxe is a 100% natural, 100% organic, vegan-friendly, cruelty-free replacement for all petroleum-based products like Vaseline.
This tattoo butter is made from mango, coconut, papaya, and other shea butters, so it smells amazing! (But just remember that it's not for toast…)
Hustle Butter Deluxe is available in three sizes: a large 5 oz (150 ml) tub, a smaller 1 oz (30 ml) tub known as 'The Ones', and '25s', which are 0.25 oz (7.5 ml) packettes that are great for one-use only and perfect for taking with you to tattoo conventions and studio guest spots. They are also ideal for selling as aftercare in your studio to clients leaving with fresh tattoos!
Although it's one of the best tattoo aftercare products out there, Hustle Butter Deluxe isn't just for use as aftercare. As the tagline 'BEFORE.DURING.AFTER' suggests, Hustle Butter Deluxe is the perfect tattoo care for use throughout the entire tattooing process.
You can use Hustle Butter Deluxe to prep the skin before tattooing, as a tattoo lubricant during, and then to care for your fresh piece after the session.
Using Hustle Butter Deluxe has many benefits for tattoo artists. You'll notice when using it that it doesn't remove stencils, meaning that you won't have to reapply or redraw your design. In addition to this, you won't experience any clogged tubes like you may do with petroleum-based products, and your gloves won't get worn and broken-down.
The skin will also remain workable when using Hustle Butter Deluxe, which means no more overworked highlights and your yellows and whites will go in the first time with no problem. Plus, it also promotes healing upon contact, so you'll notice that it minimises redness, swelling and bleeding when applied to a fresh tattoo.
So, after you've created one of the best tattoo aftercare products around, where do you go from there? For the guys behind Hustle Butter Deluxe, the answer was three letters: CBD.
Hustle Butter C.B.D. Luxe is the same great tattoo butter you all know and love, but with the added benefit of 500 mg of CBD oil for anti-inflammatory properties. CBD, aka cannabinoid, is a non-psychoactive extra of hemp.
As with Hustle Butter's original tattoo aftercare, Hustle Butter C.B.D. Luxe is vegan-friendly and brings the same benefits as its predecessor: no clogged tubes, no stencils removed, no overworked highlights, and a noticeable reduction in redness and irritation of the skin.
Hustle Butter C.B.D. Luxe is available in a large 5 oz (150 ml) tub, which makes it perfect for studio use, as well as a card containing 4 x 1.875 g packettes (each with 10 mg of CBD oil) that is ideal for taking to tattoo conventions and studio guest spots.
It may be one of the best tattoo aftercare products around, but make sure to use it throughout the whole tattooing session like you would with Hustle Butter Deluxe for the best results!
You can't knock the hustle!
Away from tattoo butters, Dermalize PRO is one of the best tattoo aftercare solutions for covering a fresh tattoo and is an alternative to cling film and other dressings.
Used by leading tattoo artists around the world, Dermalize PRO is a breathable, light and flexible film that acts as a second skin to protect fresh tattoo wounds from germs and bacteria, while also allowing the skin to breathe, thanks to its permeability.
Dermalize PRO locks in the body's natural fluids and enzymes, letting the skin heal naturally from the inside out and resulting in beautifully-healed tattoos.
As Dermalize PRO is light, flexible and stretchable, you can place this tattoo aftercare film anywhere on the body and it will stay there for several days.
By providing a waterproof, anti-bacterial barrier, Dermalize PRO prevents any unwanted contaminants from entering the wound. This tattoo aftercare will also prevent scabbing and the possibility of clothes rubbing against your fresh tattoo.
Available to order in a roll (Dermalize PRO) or a pack of 5 pre-cut sheets. We recommend rubbing on some Hustle Butter Deluxe prior to applying Dermalize PRO aftercare for best results!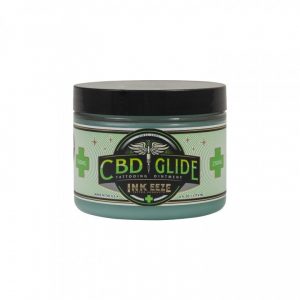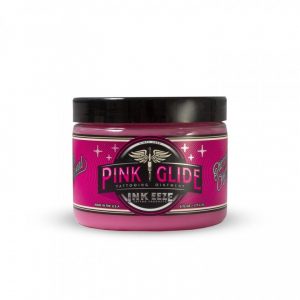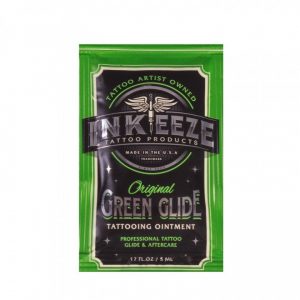 INK-EEZE is known for creating some of the best tattoo aftercare around and offers various ointments, sprays, and creams that can all be used after the tattooing process.
We'll start with INK-EEZE's range of tattooing ointments, which comprises of Green Glide, Purple Glide, Pink Glide, and CBD Glide. Each is a non-petroleum-based, vegan-friendly ointment infused with essential oils and a formula that was specifically-developed by tattooers and skin care specialists alike.
INK-EEZE's "Glide" products can be used as a lubricant during tattooing and as tattoo aftercare as well. Depending on your chosen product, INK-EEEZE "Glide" tattoo ointment will be available in sachets, tubes or tubs.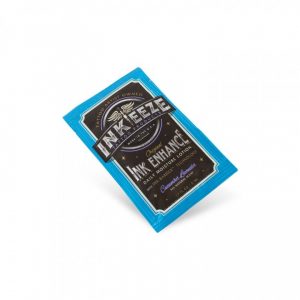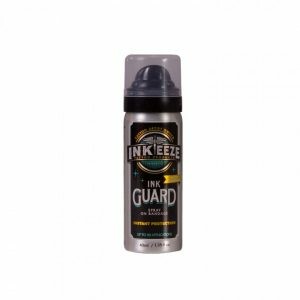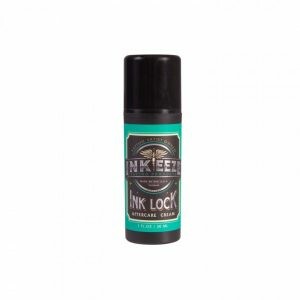 Aside from tattooing ointment, INK-EEZE also offers a variety of other tattoo aftercare products: Ink Enhance, Ink Guard, and Ink Lock.
INK-EEZE Ink Enhance is a fragrance-free moisturiser for daily application that has been specially-formulated to protect your tattoo while reducing fading by keeping your skin hydrated.
INK-EEZE Ink Guard is a spray-on bandage that can be sprayed directly onto a fresh tattoo to lock in the ink and keep out dirt and other contaminants. Ink Guard offers instant protection while remaining breathable and will form a thin layer that will fall off your skin during the natural healing process.
Last but not least is INK-EEZE Ink Lock Aftercare Cream and Spray. The cream-based aftercare version is great for those who are sensitive to ointments and prefer to heal with creams during their tattoo healing process.
On the other hand, the petroleum-free healing spray eliminates the need to rub aftercare into the skin (like you would with a cream), thus increasing pain relief. It's also a great tattoo enhancer for showing off your tattoos once they are healed, without having a greasy look.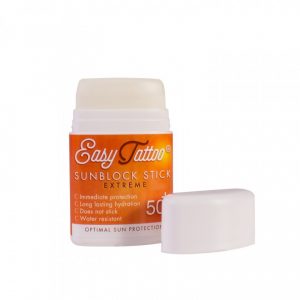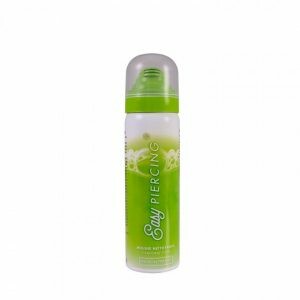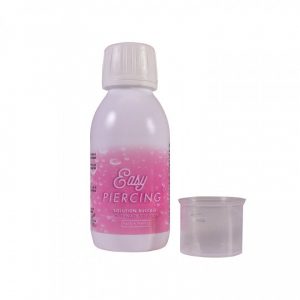 Easytattoo has created a range of aftercare for both tattoos and piercing, although most of its product range is best suited for use with piercings.
Aside from its Easypiercing products, we offer Easytattoo Extreme Sunblock Stick, which helps protect your tattoo against harmful sun rays, thanks to its 50+ SPF.
Using Easytattoo's Extreme Sunblock Stick will keep your tattoo looking fresh and keep the colours from fading. The stick offers instant protection, does not feel sticky and is waterproof. Make sure to reapply every three hours for maximum protection!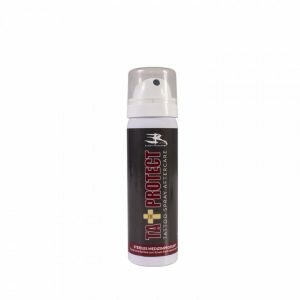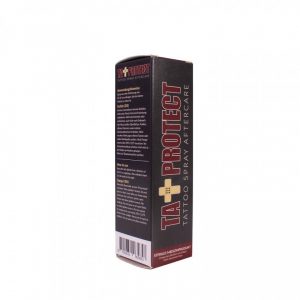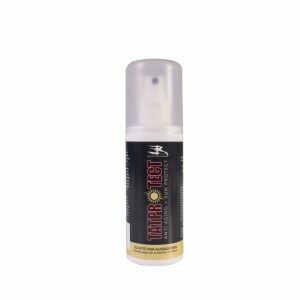 TATProtect Tattoo Aftercare Spray forms a thin breathable layer that will protect and help the skin heal after it has been tattooed.
Unlike most tattoo aftercares, TATProtect is sprayed directly on the skin instead of being wiped on, minimising the risk of cross-contamination. Once dry, TATProtect's barrier will keep all external irritants out, while keeping the moisture in the skin at the same time.
TATProtect has been scientifically designed by one of the best and most renowned tattoo artists around, Randy Engelhard, and can be used underneath protective aftercare film like Dermalize PRO.
Randy also had a hand in designing TATProtect Anti-Aging & Sun Protect with SPF 30, which will help protect your tattoos from fading and your skin from prematurely aging.
TATProtect Anti-Aging & Sun Protect is waterproof and will protect your tattoos against harmful UVA and UVB rays, while also moisturising the skin and helping to keep it smooth.
If you're not sure on just which tattoo aftercare solution is the best for you and your tattooing needs, please get in touch with us and we'll be happy to help and give you some advice on which product to go for!