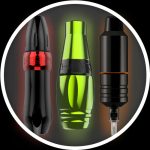 Best Tattoo Pen Machines
November 25, 2019

November 25, 2019

ch_de

https://www.killerinktattoo.ch/skin/frontend/killer/default/images/logo.svg

https://www.killerinktattoo.ch/
Over the last few years, pen-style rotary tattoo machines have seen a huge surge in popularity with many artists preferring the familiar marker pen-like way of holding and using the machines. (New to this style of machine? Then make sure you read our guide on the best rotary tattoo machines.) But with such a wide array to choose from, which is the best tattoo pen machine to use?
We're going to take a look at the best tattoo pen machines that are available to order from Killer Ink Tattoo to help you decide which is right for you.
As always, the best pen-style rotary for you depends on preference, how you tattoo, your style, plus many more factors. However, you can be sure that whichever tattoo pen machine you opt for you will get the job done to the highest of standards!
We're starting off with perhaps the best-known pen-style tattoo machine around, the Cheyenne HAWK Pen.
The Cheyenne HAWK Pen was the first-ever pen-style tattoo machine and has inspired countless rotaries since the debut of the prototype back in 2014.
Even years after its release, the Cheyenne Pen is still a shining light in the pen-style rotary machine category, with many of the world's best tattooists using it today.
Like most rotaries on this list, the Cheyenne HAWK Pen is shaped like a marker pen, which was an innovative design when first released. This design means that the machine is quieter and vibrates less than conventional tattoo devices – without sacrificing puncturing power.
For Cheyenne, the idea of the pen-like shape was to give artists the closest feel to an actual pen that you could with a tattoo machine. For this reason, artists have found that they have more control and accuracy when using the HAWK Pen, making it one of the best rotaries around!
The Cheyenne Pen is powered by a precision DC motor and offers a stroke length of 3.5mm and needle depth adjustment range from 0 and 4.5mm. The pen-style machine can be used with conventional tattoo cartridges from all of the major brands, including Cheyenne's own HAWK Cartridges and its latest Craft Cartridges.
Just like with the HAWK Pen, the Cheyenne Sol Nova tattoo machine has an ergonomic, pen-like shape. Compared to the Pen, however, the Sol Nova boasts more power and softer handling.
This durable and robust, yet lightweight rotary tattoo machine has perfect balance, with its weight shifted to the front, allowing for optimum control and accuracy.
The powerful brushless DC motor within the tattoo pen packs a punch, resulting in faster ink saturation – although its quiet and soft operational mode means that it remains gentle on the skin, allowing for a faster healing process.
The Cheyenne Sol Nova is a great all-round rotary tattoo machine. With a 3.5mm stroke, the pen-style Sol Nova is best used for precise lining, as well as soft shading.
Cheyenne's pen-like Sol Nova operates between 25 and 150 hertz. The low frequency operation with 25 hertz makes this tattoo machine great for dotwork and colour realism, while you just need to turn it up higher for fuller and more intense lines.
Stigma-Rotary® is widely regarded as one of the best tattoo machine manufacturers around, and it has not disappointed with its pen-style rotaries.
Measuring just 9.3 cm in length, 32.5 mm in diameter at its largest point, and weighing only 115 g, the Stigma-Rotary® Thorn is the size and shape of grip – it literally feels like you're just holding a grip when using this tattoo machine!
In addition, most of the rotaries weight is shifted towards the front, making the Stigma® Thorn perfectly balanced and comfortable to work with.
The Stigma-Rotary® Thorn is an all-round master with its fixed 3.5 mm stroke, solid hit and smooth running. We also offer versions of the pen-style tattoo machine with a 3 and 4 mm stroke length.
Stigma®'s Thorn rotary machine is powered by a high-quality, Swiss-made 6-Watt motor with a 2 mm shaft and two preloaded ball bearings, and also features a protected RCA connection, so durability and reliability are a given.
Thanks to the interchangeable cartridge receivers, the pen-style Thorn can be used with the best cartridges from all major brands, whether it be Killer Ink's Stellar Cartridges, Cheyenne HAWK Cartridges, or Stigma-Rotary®'s own Advanced Needle cartridges.
Before the Thorn was introduced, Stigma-Rotary® launched the Stylist, a lightweight and powerful pen-style tattoo machine that featured a long, ergonomically-designed indented grip and interchangeable cartridge receivers.
The stroke length of the Stigma-Rotary® Stylist can be adjusted in seconds from 3 to 3.7 mm by simply twisting the fixed motor. As with the Thorn, the Stigma® Stylist has a 6-Watt Swiss-made motor with a 2 mm shaft and two preloaded ball bearings.
The Stigma-Rotary® Spear was released alongside the Stylist pen and includes most of the same features, like a high-quality motor, anti-roll design, interchangeable cartridge receivers, and indented grip.
The main difference is that the Stigma® Spear also offers adjustable give, whereas the Stylist does not. The give can be adjusted by simply twisting the dial on top of the Spear tattoo machine.
Which of Stigma-Rotary®'s pen-style machines is best for you simply depends on your tattooing style and preferences.
The Spektra Xion is a pen-style rotary tattoo machine that was the result of over three years of extensive research and development from the great minds at FK Irons.
It is the kind of rotary machine that artists will be able to use over long sessions, and that is in part down to how the Xion was developed and tested in cooperation with some of the best tattooists from around the world.
Powering the Xion is a specially-designed 6-Watt MotorBolt from Spektra Rotary that ensures optimal performance of your cartridges by providing maximum torque throughout the session. In addition, the RCA connection is concealed within the MotorBolt for extra protection.
Depending on your preferences and needs, you can set up the Spektra Xion however you like it, thanks to its adjustable stroke length, needle depth and give. Being fully adjustable means that the pen-style Xion gives you complete control over your tattoo machine, therefore making it suitable for a wide range of tattooing styles.
To adjust the give up to 2 mm, simply turn the dial, while you just need to turn the click grip in order to adjust the needle depth of the Spektra Xion. You'll also receive 3.2 and 3.7 mm stroke wheels in the box, which you can use to adjust the stroke length of the machine.
The next evolution of the Xion wasn't far behind. Introducing the Spektra Xion Gorilla, which combines the body of the standard Xion pen with a larger 40 mm Gorilla grip. The addition of the ergonomic Gorilla grip provides optimum comfort and helps eliminate fatigue from clamping around the grip when tattooing for extended periods of time.
The Gorilla grip for the Spektra Xion tattoo machine is also autoclavable, easy to cover and handle, and compatible with all cartridges.
The Switch is EGO Rotary's long-awaited pen-style tattoo machine and the world's first machine to feature an in-built ON-OFF switch!
Created and designed by one of the UK's best tattoo artists, Bez from Triple Six Studios in Sunderland, the EGO Switch V2 is a cartridge-dedicated rotary tattoo machine that is lightweight, reliable, consistent and quiet. It features an exceptional ergonomic design, with a 28 mm diameter that fits into your hand well and feels great when tattooing.
Powered by a precision Japanese-made motor, the EGO Switch V2 is super smooth and super powerful. The updated version of the EGO Switch added adjustable give. To adjust, use the included give adjustment tool and turn the dial inside the tattoo machine. Turn clockwise for a harder hit and anti-clockwise for a softer hit.
The EGO Switch pen-style rotary machine V2 has two modes. Mode one is constant power on, meaning that you control the power of the tattoo machine via your power supply with a foot switch. Mode two is Switch mode, which allows you to turn the power on and off via the switch at the top of the machine. One press engages the power, and it will stay on until the switch is pressed again.
The Equaliser Proton MX is a pen-style rotary tattoo machine that is made by the popular brand KWADRON, known for developing some of the best needles and cartridges around.
The Equaliser Proton contains a 5-Watt motor and features an advanced gear system, which makes it a very quiet and reliable machine with a complete lack of vibration when running.
This lightweight pen-style rotary is made from anodised aluminium of the highest quality. It offers a stroke length of 3.5 mm and needle depth from 0 to 4.5 mm.
Equaliser followed on from the Proton MX with the release of the Proton Enduro tattoo pen – a rotary machine with a 25 mm aluminium grip that has been designed for trouble-free operation.
Again designed by KWADRON in Poland, the Equaliser Proton Enduro pen is a very quiet tattoo machine that offers almost no vibration when running. Perfect for all types of work, whether it's lining, shading or colour packing.
The Equaliser Mikron and Mikron Turbo are both cartridge-dedicated, pen-style rotary tattoo machines from KWADRON that will run cartridges from all major brands.
For the Equaliser Mikron Turbo, simply attach your cartridges to the included adjustable cartridge grip. The Equaliser Mikron, on the other hand, is compatible with both screw-on-style grips and standard cartridge grips with a backstem.
Both of these pen-like tattoo machines are powered by a 4.5-Watt Faulhaber motor and feature a 3.5mm stroke length. Each one also has a hidden RCA connection, which is at a 35-degree on the Equaliser Mikron Turbo for optimal durability and reliability.
As well as being ergonomically-designed, both of these Equaliser-branded, pen-style rotary tattoo machines are built from CNC-milled, aircraft-grade aluminium, making them very lightweight. The Mikron Turbo weighs in at 104g and the standard Mikron tops the scales at just 55g.
The Equaliser Mikron and Mikron Turbo are great all-rounder tattoo machines that can be used for lining, shading, and colour packing.
Made in Italy and used by some of the best tattoo artists in the world, the Sunskin Stilo is a rotary from a company that has over 20 years' experience in the manufacturer of high-quality tattoo machines.
Built from a solid aluminium alloy that keeps the weight down to 130 g, the Sunskin Stilo is an all-round tattoo pen that can be used for lining, shading and colour packing.
The combination of a titanium mechanism and 6.3-Watt motor gives the pen-style Stilo plenty of power, as well as a nice and soft, but accurate, hit. Sunskin's tattoo pen knows very little vibration and is silent in operation, making it a comfortable rotary machine to work with.
The Sunskin Stilo comes with three interchangeable, autoclavable grips: two aluminium and one steel. The grips have different sizes and shapes, allowing you to choose a grip that best suits your tattooing style.
If you find yourself still unsure on the best pen-style tattoo machines, or if you just need some more information about one or more of the rotary tattoo machines, then don't hesitate to get in touch with us and we'll be happy to help!