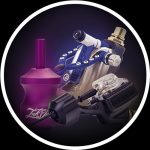 Inkjecta Rotary Tattoo Machines
Dezember 20, 2019

Dezember 20, 2019

ch_de

https://www.killerinktattoo.ch/skin/frontend/killer/default/images/logo.svg

https://www.killerinktattoo.ch/
Inkjecta produces some of the best rotary tattoo machines around, with many of the world's top artists opting for the brand.
Perhaps the most well-known tattoo machines from Inkjecta are the acclaimed Flite Nano rotaries.
The Inkjecta Flite Nanos are cartridge-dedicated tattoo machines that are very versatile and suitable for lining, shading and colouring across all styles.
All Inkjecta Flite Nano machines come with a pre-installed 3.25 mm excenter and a custom nanotechnology brushless motor with no start-up delay.
There are three versions of the Flite Nano available to order from Killer Ink Tattoo: Lite, Titan and Elite. Each comes with a semi-rigid bar in the box, while the Titan and Elite models also receive soft, medium and hard torsion bars.
Both the Lite and the Elite variants feature an alloy billet construction, with the Elite also coming with a titanium collar vice. On the other hand, the Titan has a carbon fibre frame, making it extremely lightweight and topping the scales at just 47 grams.
Unlike the Flite Nano Lite, the Titan and Elite both have side cushions for increased comfort and an LED activation light, which is a cool little feature.
Following on from the Flite Nano was the Inkjecta Eclipse, which had huge boots to fill, but managed to exceed expectations.
The Inkjecta Eclipse is a rotary machine designed for use with standard tattoo needles.
Just like the Flite Nano Elite and Limited Edition models before it, the Inkjecta Eclipse features a billet alloy construction – typically used in the aerospace industry.
Powering the machine is the same custom nanotechnology motor that can be found in the Inkjecta Flite Nano machines. This is reinforced and protected by an injection-moulded fibre motor housing.
It also comes installed with a 3.25 mm chrome cam, which is interchangeable and allows artists to choose their stroke length. In addition, the Inkjecta Eclipse is able to push up to a 45 magnum with ease.
Most recently, Inkjecta unveiled a true successor to the Flite Nano: the Inkjecta Flite Nano Ultra Lite.
The Inkjecta Flite Nano Ultra Lite takes everything that tattoo artists love about the standard Flite Nano machines and adds a few nifty innovations.
As its name suggests, the Inkjecta Flite Nano Ultra Lite is incredibly lightweight and weighs in at only 45 g (including all attachments), making it the lightest tattoo machine around! The frame of the Flite Nano Ultra Lite and the newly-developed needle bar are made of injection-moulded carbon fibre, which helps with the weight reduction.
As with the other Inkjecta Flite Nano models, the Ultra Lite version is powered by a custom nanotechnology motor that offers no start-up delay when starting the machine.
The Inkjecta Flite Nano Ultra Lite is a complete all-rounder and suitable for all tattooing styles. It's also compatible with all Inkjecta Flite Nano accessories, such as bumpers, caps and excenters.
Aside from a variety of Inkjecta accessories like bars, bumpers, cams and caps, we also stock Inkjecta Chubby Grips, which are made from either aluminium (black or purple) or stainless steel.
The Inkjecta Chubby fixed grips are comfortable to hold for long tattooing sessions due to their ergonomic shape and have a diameter measuring 25 mm at its slimmest section and 33 mm at its largest point.
Whichever tattoo equipment from Inkjecta you go for, you can be sure that you won't be disappointed with the results!