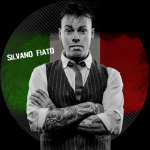 An Interview with Silvano Fiato
Silvano Fiato owns and works from Eternal Tattoo Studio, Genoa, Italy. Website:
www.silvanofiato.com
Facebook:
www.facebook.com/SilvanoFiatoTattoos
Twitter:
@silvanofiato
Instagram:
@silvanofiato
How did you become interested in tattooing?
Since I was a child I've painted and drawn in my every free moment, it has been an obsession for me, an obsession that I have continued to carry on in my life. When I was 18 I bought my first tattoo magazine and I was very impressed by some realistic tattoos I saw. I realised that I could achieve on skin that what I was already making on paper and canvas, on that day I decided that I wanted to be a professional tattoo artist and become even better than the tattoo artists that I had admired in that magazine, I hope this thought is not mistaken for arrogance, because it's purely ambition. So I attended my first hygiene course and I bought my first piece of equipment. Since then I have never stopped tattooing. It's my greatest passion.
How long have you been tattooing?
It's around 10 years.
When did you open your own studio?
I opened my studio in Genoa, my city, about 9 years ago.
What materials do you use?
I've always tried to use the best materials available, it was trial and error to find what was the best for me, for now my choice is Killer Ink products, where I can find the top of every brand that I use. I use Stigma-Rotary Tattoo Machines, Panthera ink, Kwadron needles and Ink Health.
Where do you get your inspiration from for your tattoos?
I draw my inspiration from what I've experienced in life, I try to put a part of myself and my feelings into the ideas that come as requests from customers, because the only thing that I ask from them is the space and the idea, nothing else.
You do a lot of Black and Grey work, is that a deliberate choice you have made or do people simply mainly ask you for black and grey work?
It's my choice. I love Black and Grey because it's much closer to my idea of a tattoo. Sometimes I love to do something in colour, but I prefer black and grey.
What are your plans for the next 12 months?
Work, work, work, work :)
Which other tattooists are impressing you at the moment?
I like several tattoo artists. In this new millennium every customer can consider themselves lucky because I think there are many good new artists, the current scene is really full of talent.
When you are not tattooing what else do you do?
I love being with my family and despite everything in my free time I also try to think about new projects and my prerogative is to never stop studying and to always have new ideas and find new techniques to improve myself, because I think that you never stop learning and I feel I have much more to give.
Are there any other artistic mediums that you enjoy aside from tattooing?
I love and admire everything that is art in all its forms. I especially love photography and painting.
How would somebody go about getting a tattoo from you?
Some customers come here into the shop in Genoa, but we're working almost exclusively with foreign customers and have a waiting list of 2 years at the moment, so we work via e-mail, with a great exchange of information to plan everything before the customer arrives in the shop to get the tattoo. The customer gives me the idea, if this is approved by me, my assistant explains how it works for booking and about a month before the appointment the design is presented, each customer is treated the best we can and with maximum professionalism to make their experience the BEST from all points of view.