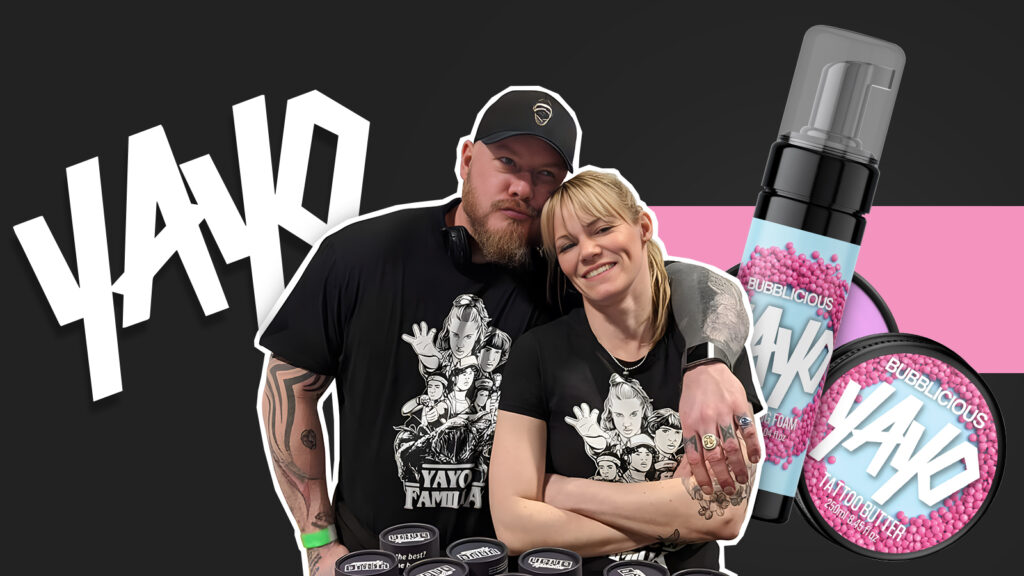 Interview with Kirk Diggler & Megan Beardsmore - CEO & CCO at YAYO
YAYO brand products have become a huge hit in the tattoo world with their range of vegan cruelty-free tattoo aftercare and skincare.
With YAYO products coming soon to the Killer Ink site, we wanted to find out a little more about the cool company that makes these brightly coloured, bubblegum scented products.
We sat down with Kirk Diggler, CEO and Founder, and Megan Beardsmore, Chief Cosmetics Officer, for an in-depth look at the ethos behind the company, which ingredients actually help the skin to heal, and what's next from the self-proclaimed Batman and Robin of tattoo aftercare!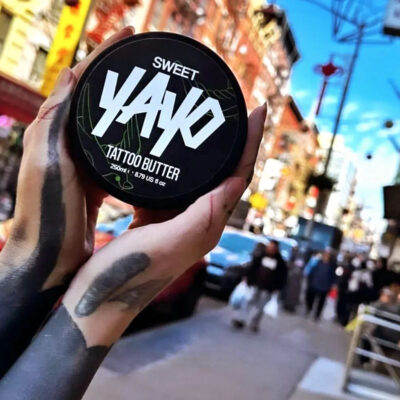 What was the original idea behind the YAYO brand?
Kirk: Alright, picture this: there I was, dreaming of concocting this all-singing, all-dancing aftercare potion that would not only make healing from a tattoo feel like a spa day but also have you smelling like you fell into a vat of cologne - in a good way, of course. The catch? My expertise in skincare was as scarce as a penguin in the Sahara.
But fate, that sly fox, had Megan open a skincare emporium a stone's throw (literally, four doors down) from my ink-slinging headquarters. One fine day, fueled by a blend of caffeine and sheer audacity, I strutted into her shop, spilled my guts about this wacky vision, and voilà, we were like mad scientists in a lab, brewing up the elixir of after-ink care.
Megan: As Kirk explained, he came up with the initial idea to bring out a tattoo butter, but needed some help with where to start. Luckily for him I was just down the road with all the knowledge he required to get started. I make natural skin care so the only path to take was to develop a range of natural tattoo aftercare.
What was the first product you put out with the YAYO name?
Kirk: YAYO Solid was our first product - actually, while the tattoo aftercare was being perfected and tested, it was our only product and it was just called YAYO.
What does YAYO mean, or stand for?
Kirk: So, "YAYO" is what the cool cats in Cuba call the ol' nose candy - yeah, that's right, the white stuff, cocaine. I was all jazzed up about the movie "Scarface" and almost named the brand "Montana's Finest," but that sounded like a premium steakhouse or a cowboy's tobacco brand. Too many syllables to juggle, not snappy enough for the cool crowd. We went with YAYO because, get this, YAYO Solid is like a doppelganger for powdered sugar - only it cleans up your workstation instead of your sweet tooth. We're all about that wink-wink, nudge-nudge life, giving you that 'I'm up to no good' vibe without the actual felony.
What is it with tattoo artists and bubblegum smells?!
Megan: They really do love it don't they! We love the smell when we are manufacturing. I think it reminds those of us who are old enough to remember the bright pink bubblicious bubble gum you used to get in a 10p mix, the flavour used to last about 5 minutes but we loved it.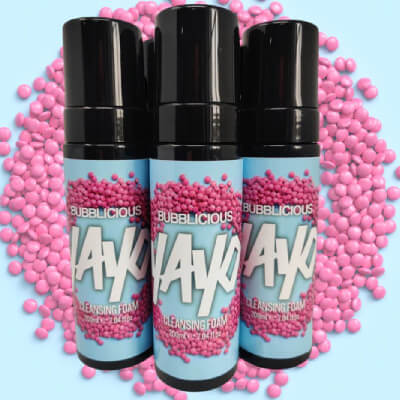 What other scents do you use for your products?
Megan: We use a lot of different scents for our YAYO products, some fragrances like vanilla, sticky toffee, pear drops and candy floss, but we also use a lot of essential oils. We use specific essential oils for their individual benefits. Lemongrass featured in our clear range; it's great at reducing swelling and inflammation, perfect for calming the skin following a tattoo. Our newest Encore range uses the benefits of clove oil to help reduce the pain when getting tattooed, and has an active ingredient of eugenol which works as a natural painkiller.
How has the tattoo industry changed since you started YAYO?
Kirk: Oh, let me tell you, it's like everyone and their grandma suddenly wants a slice of the aftercare pie these days, even folks who couldn't tell a moisturiser from mayo. If it were just little old me, I'd probably have whipped up something that'd make your skin as smooth as sandpaper - no offense to my future self. But thank the skincare gods for Megan, who's basically the encyclopedia of epidermis. We're like the dynamic duo if Batman knew nothing about bats and Robin was a dermatological genius. I brought the devilish charm and a face that's easy on the eyes, while she brought the brainpower that didn't come included with my mirror.
Megan: We are seeing more and more aftercare products entering the market over the years, not necessarily made by people with the correct experience or knowledge about ingredients and the effects on the skin. There is a big move away from the use of plastic packaging. Here at YAYO we use aluminium where we can to negate the increase in plastic consumption. Artists are definitely becoming more eco-conscious in the brands they use!
Why is it so important that all your products are vegan and cruelty free?
Megan: We wanted to make sure our brand was accessible to all. Cruelty-free natural tattoo aftercare is an ethical and eco-friendly alternative to conventional tattoo products and we wanted to embrace this. There is no excuse in this current day and age to be testing your products on animals. Not only do our products provide nourishing ingredients and natural hydration, but they are also free of harsh chemicals and synthetic fragrances that can be irritating to freshly tattooed skin.
What are the advantages of using CBD in your products?
Megan: CBD has powerful anti-inflammatory, antimicrobial and hydrating properties, and CBD can considerably boost the healing process. It can minimise scarring and skin damage, and reduce itching and inflammation while providing calming relief when applied topically to the skin.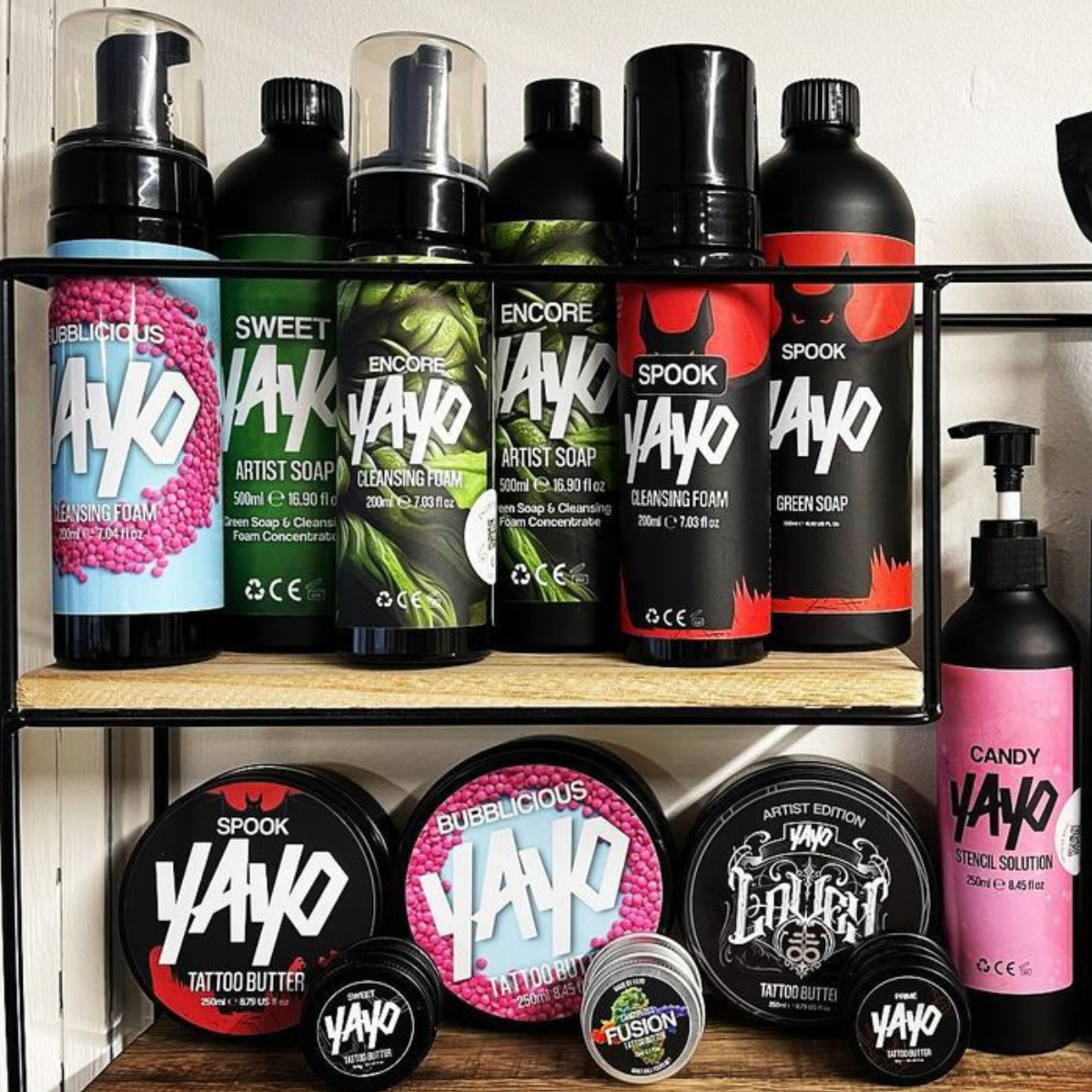 How do YAYO products help artists get the best photos of their work?
Megan: As a tattoo aftercare company we know that having great pictures of your work is essential to impressing potential clients and growing your business. When it comes to nailing tattoo photography, the main issue stems from the fact that fresh tattoos usually have a red swollen appearance that can cause unwanted shine and glare. Consequently, it's important to give the finished piece some time to 'cool down' between dropping your tools and picking up your camera.
This is where our cleansing foams come into play: using Clear or Encore cleansing foams with their active anti-inflammatory properties can really help to reduce the issue of redness and swelling. The tattoo should also be cleaned with one of our green soaps to make sure that all excess ink or blood is removed gently. Once redness and swelling is reduced, a thin layer of one of our tattoo balms helps to keep the tattoo looking bright, fresh and ready to take the perfect photo!
What products are you working on right now?
Kirk: Oh, you're trying to get me to spill the secret sauce, aren't you? Nice try! But my lips are sealed tighter than a hipster's skinny jeans. All I can say is, brace yourself for some serious coolness heading your way - like, imagine your favorite superhero swooping in with a cape made of awesome. Stay tuned, because YAYO's about to drop some freshness that'll have you sticking around like it's the season finale of your favourite show.
What's the tattoo scene like in Newport?
Kirk: Well we're back in Sheffield now, we moved away from the Island in September this year. The scene in Newport though is quite dynamic with a mixture of artists and styles. Lovely place and lovely people. If you've never been, I'd recommend a visit in the summer.
Which tattoo artists do you think are doing exceptional work right now?
Kirk: We work with some amazing artists and it would be impossible to list them all. Craig James, Paul LaVey, Connor Prue, Jo Black, Tibor Varga, Matt Lewis, Matthew Larkin, Peter Galeski, Richy Price, Vesso Alexiev, Mateusz Strzelecki, Keith Murphy, Jamie Lo, Igor Sto, Endre Szabo, Chris Meighan, Connor Alderman, Angharad Chappelle, Geofferson Longley, Alan Potter... I love seeing all of our team artists' work and Reels. I'm always in awe.
Who designs your YAYO merch?
Kirk: We have tattoo artists design them and I've dabbled in there too. We welcome submissions from other artists that aren't necessarily on our team to contribute also!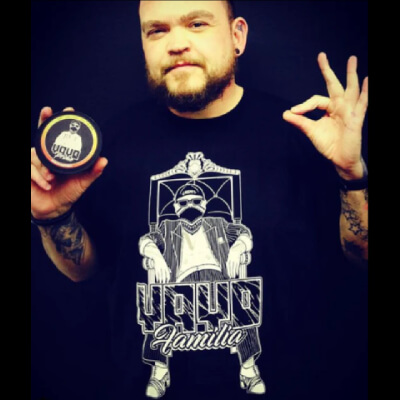 How many tattoos do you have, and do you have a favourite?
Kirk: Too many to count but my favourite currently has to be my portrait of my grandad John. I'm aware it's cliche but it means a lot to me; he's a man I aspire to be like each day.
Megan: I've got quite a lot of tattoos now. It helps when your partner is also a tattoo artist. I'd have to say my favourite is my Baba Yaga tattoo on my leg. She is a scary character from Slovak folklore who used to steal naughty children when they misbehaved. It means a lot to me as my partner did this for me for my birthday and I love creepy things.
What do you think is going to be the next big thing in the tattoo world?
Kirk: I think we'll see an increase of using AI for designs in tattoo work which I think will extend to booking systems too. I also think there'll be a shift away from traditional tattoo shops for artists to work at, maybe utilising hubs around the country or world so they can experience working in different cities.
What do you get up to outside of work?
Kirk: I took up kick boxing this year and love it. I've never boxed before and I think I missed my vocation, the technical skill to box as well as the exercise is phenomenal. I go to the gym and spend time with people close to me. I love mountain biking and I am fan of whiskey, my favourite right now being Ragtime Rye (hinty hint hint).
Megan: When I'm not working I'm generally at home with my partner and my two teenage children, but in my spare time I love to explore abandoned buildings. There is something very exciting about looking around an old building full of old features you don't see anymore. My recent favourite was looking around an old tool factory in Sheffield.
Will we see the YAYO team at any conventions in 2024?
Kirk: Yes we're filling up our diary for 2024, very excited for Brighton, Milton Keynes, Leeds and Big London specifically.
What's next for Kirk Diggler and YAYO?
Kirk: The world chico, and everything in it! 😉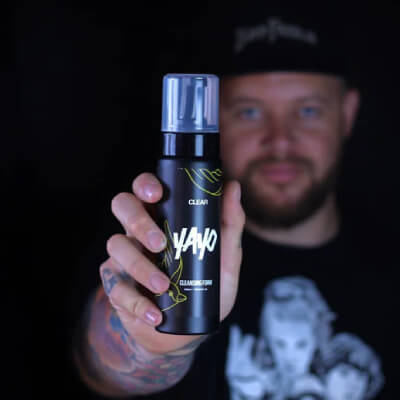 Huge thanks to Kirk and Megan for their informative and hilarious answers to our questions!
Check out YAYO on Instagram or Facebook, and keep your eye on the Killer Ink store for Bubblicious Tattoo Butter and Cleansing Foam!