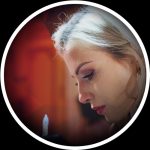 Jenna Kerr Interview
Jenna Kerr is one of the UK's top artists and known for her incredible ornamental tattoos.
In our latest interview, we put her under the spotlight to discuss her style, inspirations, and how her popularity has skyrocketed over the years.
Don't miss this video with one of the finest British tattoo artists around!
Jenna Kerr, a Killer Ink Sponsored Artist of the Month, was most recently the owner of Devil in the Detail custom tattoo studio in Stoke-on-Trent, UK, and will be announcing a new studio soon.
A tattooist for 10 years who has won multiple awards at conventions around Europe, Jenna's love of art nouveau and baroque filigree features heavily in her pieces, along with a combination of expertly crafted gemstones and ornamental accents.
You can keep up to date with Jenna's latest work by following her on Facebook, Instagram and Twitter!