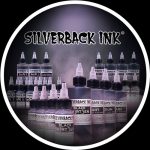 Silverback Ink® Black Pack
Oktober 8, 2019

Oktober 8, 2019

ch_de

https://www.killerinktattoo.ch/skin/frontend/killer/default/images/logo.svg

https://www.killerinktattoo.ch/
Looking for the best black tattoo inks around? Feast your eyes on the Silverback Ink® Black Pack.
The Black Pack features four bottles of Silverback Ink®'s best-selling black tattoo inks: XXX Black, InstaBlack, Stupid Black, and Black Th1rt3en.
Up first is the latest addition to Silverback Ink®'s range, Black Th1rt3en. The number may be unlucky for some, but this black tattoo ink may just be the one for you as its perfect for any tattooing styles, from dot works to portraits!
The viscosity and surface tension of Black Th1rt3en is completely different to what Silverback Ink® has made in the past. Black Th1rt3en has a good body to it, just a bit thicker than water, and fully coats the needle when tattooing.
If you're looking for a thinner black ink than Black Th1rt3en, check out Silverback Ink® Stupid Black, which has an increased surface tension when compared to the brand's other thin inks, InstaBlack and XXX Black.
As with Silverback Ink® Black Th1rt3en, Stupid Black goes into the skin at a normal speed, so it's great for a range of tattooing styles.
Silverback Ink® InstaBlack is another black ink with a thin viscosity and was developed when trying to scale-up production of Stupid Black.
InstaBlack contains the exact same ingredients as Stupid Black, but just mixed in a different way. The result of this means that InstaBlack goes into the skin more velvety than Stupid Black, with the latter having more of a sticky consistency.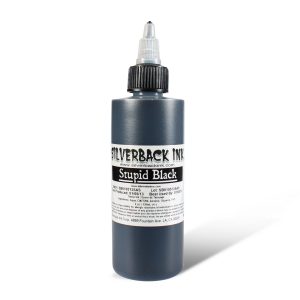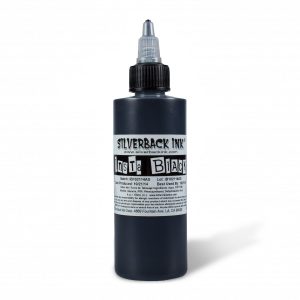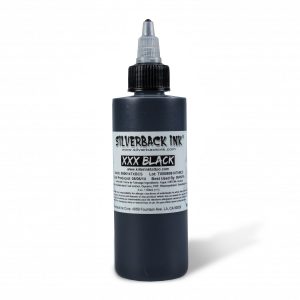 The thinnest black ink in the Silverback Ink® range is XXX Black, which goes into the skin super fast and easy, making it ideal for both outlining and shading.
Formulated and manufactured by tattoo artist Randy Scott Howell, all tattoo inks from Silverback Ink® are vegan-friendly and comply with EU Resolution ResAP(2008)1.
Not sure which black tattoo ink from Silverback Ink® is best for you? Get your hands on the Black Pack and try them all out for yourself!