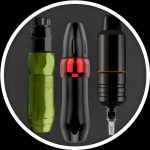 Best Rotary Tattoo Machines 2020
Januar 1, 2020

Januar 1, 2020

ch_de

https://www.killerinktattoo.ch/skin/frontend/killer/default/images/logo.svg

https://www.killerinktattoo.ch/
With so many rotary tattoo machines to choose from, it can be hard to know which is the best fit for you, so we're going to run through the best rotary tattoo machines that are available to order from Killer Ink Tattoo in 2020 to help you find your next machine!
There are a number of benefits to working with rotary machines, with many tattoo artists enjoying the low maintenance and ease of use. But no matter which rotary tattoo machine you choose to order from our online shop, you can be sure that it will serve you for years to come!
What are the Best Rotary Tattoo Machines in 2020?
When it comes down to finding the best rotary tattoo machine for you, it really comes down to personal preference, but our guide will help you find a machine that you will enjoy using for years to come.
However, if you need some more information regarding our range of rotary tattoo machines or need some help choosing the best one for you then get in touch with us today!
Stigma-Rotary® Shot
Stigma-Rotary® had an incredible busy 2019, launching not one but two new tattoo machines, alongside a range of click and disposable grips.
The most recent machine offering from Stigma® was the Shot, which brought some nifty new features to the tattooing market.
The Stigma-Rotary® Shot is the only direct drive tattoo machine around with a stroke length that is quick and easy to adjust without the need to exchange parts or use tools. By simply twisting the motor, you can adjust the stroke length of the Stigma Shot on the fly from 3 to 4 mm.
This rotary is also the only direct drive machine with forced stay up function for standard needles and cartridges, which means that the needles always stop at the upper position. This function makes the Shot the safest direct drive machine available to order.
Stigma-Rotary® Thorn
Just before the launch of the Shot was the Stigma-Rotary® Thorn - a pen-style rotary tattoo machine that is the size and shape of a grip.
Measuring just 9.3 cm in length, 32.5 mm in diameter at its largest point, and weighing only 115 grams, it literally feels like you're holding just a grip.
The Stigma-Rotary® Thorn is an all-round master with its fixed 3.5 mm stroke, solid hit and smooth running. We also offer versions with a 3 and 4 mm stroke length.
Cheyenne Sol Luna & Sol Terra
Cheyenne Professional Tattoo Equipment caused a stir last year with a double tattoo machine release: the Sol Luna and Sol Terra.
These two rotary tattoo machines are able to run at low speeds from 25 hertz. Operate the machines on lower speeds for styles such as dot work and colour realism, or turn it up higher for fuller and more intense lines.
Both rotary machines have two operating modes, known as HardDrive and SENSIDRIVE. These modes allow you to choose between working at a controlled or regulated speed by altering the motor control.
With the HardDrive function, your machine will run at a controlled speed, with no give and a consistent hard hit. Turning the SensiSwitch will enable the new SENSIDRIVE function, meaning that the speed of the machine will be adjusted depending on the surface that you're tattooing. This is due to the motor reacting more sensitively to the resistance of the skin.
The overall purpose of SENSIDRIVE is to emulate give. So if you're tattooing a tougher area on the skin, your machine will have a harder hit. If you're tattooing a softer part of the body, your machine hit will be softer.
The main difference between these two rotary tattoo machines is the stroke length. The Cheyenne Sol Terra has a 4 mm stroke length, making it a great liner and colour packer. On the other hand, the Cheyenne Sol Luna offers a 2.5 mm stroke length, therefore optimising its ability for black and grey shading .
Cheyenne Sol Nova
As with the much-loved Cheyenne HAWK Pen, the new Cheyenne Sol Nova rotary tattoo machine has an ergonomic, pen-like shape. Compared to the Pen, however, the Sol Nova boasts more power and softer handling.
By shifting the weight of the machine to the front, Cheyenne has given the Sol Nova perfect balance, allowing for optimum control and accuracy.
The powerful brushless DC motor within the Cheyenne Sol Nova packs a punch, resulting in faster ink saturation. Even with this powerful motor, the quiet and soft operational mode of the Sol Nova means that it remains gentle on the skin, therefore allowing for a faster healing process.
Cheyenne HAWK Pen
As previously mentioned, the Cheyenne HAWK Pen is well-loved by tattoo artists around the globe and has been since the debut of the prototype back in 2014.
The Cheyenne HAWK Pen was the first-ever pen-style rotary tattoo machine and is still one of the best in its category today.
The idea of the pen-like shape was to give artists the closest feel to an actual pen that you could with a tattoo machine. For this reason, tattoo artists have found that they have more control and accuracy when using the HAWK Pen.
Cheyenne HAWK, HAWK Spirit & HAWK Thunder
Before they conceived of a pen-shaped tattoo machine, Cheyenne was well-known for its three HAWK-branded rotary machines: the HAWK, HAWK Spirit, and HAWK Thunder.
The HAWK was Cheyenne's first rotary tattoo machine and the company has now honoured its legacy with a special edition re-release to celebrate its 10th anniversary.
Following on from this iconic machine was the Cheyenne HAWK Spirit, a light and flexible rotary that is great for all aspects of tattooing.
The HAWK Spirit is a true all-rounder machine, delivering fast strokes and quick punctures, while also being incredibly easy to use.
Next up was the Cheyenne HAWK Thunder, another superb all-rounder rotary tattoo machine that excelled at lining, shading and colouring work.
Cheyenne increased the stroke length of the HAWK Thunder tattoo machine up to 4mm, which makes it one of the best rotaries for colour packing and solid black work.
EGO Switch V2
The Switch is EGO Rotary's long-awaited pen-style tattoo machine and the world's first machine to feature an in-built ON-OFF switch!
The EGO Switch V2 has two modes. Mode one is constant power on, meaning that you control the power of the machine via your power supply with a foot switch. Mode two is Switch mode, which allows you to turn the power on and off via the switch at the top of the machine. One press engages the power, and it will stay on until the switch is pressed again.
EGO Rotary updated the Switch at the tail end of 2019 to add adjustable give: turn the dial inside the machine clockwise for a harder hit and anti-clockwise for a softer one.
EGO Polygon
All EGO Rotary tattoo machines are super-lightweight with wrist-friendly designs, created and designed by tattoo artist Bez from Triple Six Studios in Sunderland, UK.
The EGO Polygon, a cartridge-dedicated rotary tattoo machine that follows on from the R12 and R12 Plus, is certainly no exception.
Featuring a fully-aluminium body with a lightweight, ergonomic design, the Polygon is the smallest machine from EGO Rotary to-date, weighing only 65 grams – or 55 grams without the vice connector.
The EGO Polygon is powered by an enclosed Faulhaber brushless motor and has no start-up delay. This smooth-running rotary has a perfectly straight, true linear drive motion, meaning no sideway vibration.
Tattoo artists can choose the give of the Polygon via seven main and nine disposable drive bars, each offering a different level of give indicated by various colours. Artists can use either the main or disposable drive bars to select soft, medium and hard give, while an aluminium main drive bar offers a solid hit with no give.
Spektra Xion
Not content with creating some of the world's best coil tattoo machines, FK Irons owner Gaston Siciliano entered the 'Rotary Age' with Spektra, a brand dedicated to the engineering of high-quality rotary tattoo machines.
Most recently, Spektra has been riding a wave of acclaim for its pen-shaped Xion rotary, which quickly took to the hearts and hands of some of the best tattoo artists across the world.
The Spektra Xion is a cartridge-dedicated tattoo machine that is both lightweight and ergonomic, allowing for optimal manoeuvrability – the kind of machine that tattoo artists will be able to use over long sessions.
Spektra Rotary has fitted the Xion with a specially-designed 6W MotorBolt that provides maximum torque throughout the tattooing session and ensures optimal performance of your cartridges.
The Spektra Xion is fully-adjustable, with tattoo artists able to adjust the stroke length, needle depth and give.
Permanent make-up artists can also take advantage of the Spektra Xion S, which has a smaller grip and a shorter stroke length – optimal for smaller needles and higher speeds, both commonly used for permanent make-up.
Spektra Xion Gorilla
The next evolution of the popular Spektra Xion rotary tattoo machine is here: the Spektra Xion Gorilla combines the body of the standard Xion with a larger 40 mm Gorilla grip.
The addition of the ergonomic Gorilla grip provides optimum comfort and helps eliminate fatigue from clamping around the grip when tattooing for extended periods of time. The Gorilla grip is also autoclavable, easy to cover and handle, and compatible with all tattoo cartridges.
Spektra Edge X
Aside from the Xion, Spektra Rotary also offers three top-class tattoo machines: the Edge X, Halo 2 Crossover, and Direkt 2.
The Spektra Edge X is a sophisticated and versatile cartridge-dedicated tattoo machine that utilises the Hex Drive motor system and Spektra's MultiVise system.
The MultiVise system from Spektra allowed tattoo artists to use both conventional cartridge grips with a backstem and screw-on-style cartridge grips with the Edge X – which was a first in the industry upon release.
Thanks to an adjustable stroke with variable options, the Spektra Edge X eliminated the need for interchangeable stroke wheels.
Spektra Halo 2 Crossover
After the release of the Edge X, Spektra brought back its original Halo machine with a bang, resulting in its do-all successor, the Halo 2 Crossover.
The Spektra Halo 2 Crossover is a rotary tattoo machine that handles it all, designed to push cartridges and standard needles.
The Halo 2 Crossover comes with a needle clip-on and stabiliser system, meaning artists could say goodbye to grommets and rubber bands.
Spektra's Halo 2 rotary machine offers both adjustable strokes and gives – the latter of which has been optimised for a flawless response with both cartridges and tattoo needles.
Spektra Direkt 2 Crossover
As with the Halo 2 Crossover, the Spektra Direkt 2 Crossover was designed to push both tattoo cartridges and standard needles.
Many of the world's best tattoo artists have lauded the Direkt 2 Crossover, enjoying its powerful and consistent hit and its silent running at any voltage.
The Direkt 2 Crossover features the aforementioned MultiVise system from Spektra, along with a Hex Drive MotorBolt system that is compatible with Direkt and Edge X motors.
Inkjecta Flite Nano
Rotary machines from Inkjecta are popular with many of the world's best tattoo artists today, whether it be the Lite, Titan or Elite versions.
All Inkjecta rotaries are cartridge-dedicated tattoo machines that are incredibly versatile and suitable for lining, shading and colouring across all styles.
Each Inkjecta tattoo machine comes with a pre-installed 3.25mm excenter, RCA connection and a custom 'Nano Technology' brushless motor with no start-up delay.
The Titan and Elite models are the most versatile Inkjecta rotary machines as they come with soft, medium, and hard torsion bars. These torsion bars offer tattoo artists the ability to set the hardness of their machine just the way they like it.
Both the Lite and Elite versions feature an alloy billet construction, with the Elite also coming equipped with a titanium collar vice. The Titan variant, however, has a carbon fibre frame, making it extremely lightweight and topping the scales at just 47 grams.
Inkjecta Flite Nano Ultra Lite
The Inkjecta Flite Nano Ultra Lite takes everything that tattoo artists love about the standard Flite Nano rotary tattoo machines and adds a few nifty innovations.
As its name suggests, the Inkjecta Flite Nano Ultra Lite is incredibly lightweight and weighs in at only 45 grams (including all attachments), making it the lightest tattoo machine around! The frame of the Flite Nano Ultra Lite and the newly-developed needle bar are made of injection-moulded carbon fibre, which helps with the weight reduction.
As with the other Inkjecta Flite Nano rotaries, the Ultra Lite version is powered by a custom nanotechnology motor that offers no start-up delay when starting the machine. Also features an RCA connection.
The Inkjecta Flite Nano Ultra Lite is a complete all-rounder and suitable for all tattooing styles. It's also compatible with all Inkjecta Flite Nano accessories, such as bumpers, caps and excenters.
Inkjecta Eclipse
The Inkjecta Eclipse is a rotary tattoo machine designed for use with standard tattoo needles. It features a billet alloy construction and a custom nanotechnology motor, which ensures a very smooth performance.
The Eclipse has a distinctive look that sets it apart from Inkjecta's range of Flite Nano rotary tattoo machines. It also comes installed with a 3.25 mm chrome cam, which is interchangeable, allowing tattoo artists to choose their stroke length. In addition, the Inkjecta Eclipse is able to push up to a 45 magnum.
Equaliser Proton
Although best known for producing some of the finest tattoo needles and cartridges around, KWADRON also manufactures rotary tattoo machines under the 'Equaliser' moniker.
The first machine, the Equaliser Proton, is a pen-style rotary that will run cartridges from all of the major brands.
The Proton is powered by a 5W motor and features an advanced gear system that makes it a very quiet and reliable machine, with a complete lack of vibration when running.
Sunskin Stilo
The Sunskin Stilo is a high-quality, all-round tattoo pen that can be used for lining, shading and colour packing.
This rotary tattoo machine is made from a solid aluminium alloy, keeping the weight down to just 130 grams. The titanium mechanism within, in combination with the 6.3 W German-made motor, gives you plenty of power and a nice and soft, yet accurate, hit.
Sunskin has also released two signature versions of the Stilo that were developed in collaboration with renowned tattoo artists Thomas Carli-Jarlier and Matteo Pasqualin.
Sunskin Primus
Under its Primus moniker, Sunskin offers four high-quality rotary machines: Special Hybrid, One, Solid and Easy.
The Sunskin Primus Special Hybrid is a rotary tattoo machine that has been designed to perform faster and easier lining, colouring and shading, without the need for adjustment, thanks to its particular softness.
Sunskin's Primus One is a well-balanced and lightweight rotary tattoo machine that is perfect for fast and easy execution of lines, shading, and solid colours.
The Sunskin Primus Solid is another well-balanced and lightweight rotary machine that is particularly suited to fast and easy colour packing, thanks to a German-made 9 W motor within - the most powerful in the Primus range.
With Sunskin simplifying the production and finishing of the rotary, the Sunskin Primus Easy was able to enter the company's Primus rotary series at a lower price point. Ideal for lining, shading and colour packing.