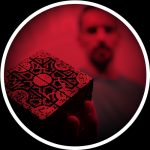 Charles Huurman Raises Hell in our Halloween Video
Oktober 31, 2019

Oktober 31, 2019

ch_de

https://www.killerinktattoo.ch/skin/frontend/killer/default/images/logo.svg

https://www.killerinktattoo.ch/
It's time to raise some hell this Halloween!
We headed over to Valencia, Spain to witness artist Charles Huurman open a puzzle box to another dimension and bring the Cenobites to Earth.
Watch our Halloween video below and see Pinhead jump straight from screen to skin!
Based at Utopian Tattoo Tribe, Charles Huurman is a specialist in abstract realism and portraits, with a career that has seen him open studios in both Ireland and his home country of Spain.
Make sure to keep up to date with all of Charles Huurman's latest work by following him on Facebook and Instagram!