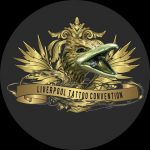 Liverpool Tattoo Convention 2019 Video
Dezember 12, 2019

Dezember 12, 2019

ch_de

https://www.killerinktattoo.ch/skin/frontend/killer/default/images/logo.svg

https://www.killerinktattoo.ch/
The 2019 Liverpool Tattoo Convention may have been moved from May to the middle of October, but even the cold weather couldn't cool our excitement for our hometown show!
The 12th edition of the Liverpool Tattoo Convention was all about respecting the past, celebrating the present and embracing the future, so what better time to shoot our latest video!
Make sure to give it a watch!
This year's Liverpool Tattoo Convention was another brilliant show and it was great to see so many new and familiar faces alike!
Special shout out to our sponsored artist Yarson Stahowic who won 'Best Large Black & Grey' for an incredible full back piece!
In addition, our good friend Lom took home the award for 'Runner Up Large Black & Grey' for a dope fighter pilot/killer bee mash-up!
We hope to see you all in Liverpool next year!